Me 4 President..?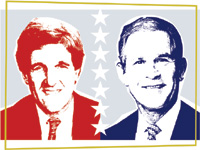 Is this the best we can do?

I am flattered by the question Ms. or Mr. "Anonymous" just left in comments. It is not the first time and I am sure not the last that I will be asked this question:

"PJF. How about POTUS 08? Serious."

Let me tell you what I know about politics.

First of all, you have to play well with others, learn how to compromise, and sell your soul to the devils just to raise enough cash to buy the media required to compete. And then start doing it again, the very next day after the election. Not my best qualities nor something I aspire to...

Unless of course, people see me as a firebrand reformer, coming in to clean house and pass real campaign finance reform, create an affordable healthcare system, push for energy efficiency, alternative fuels and renewable energy, give the EPA its balls back and outlaw all special interest groups that ply elected officials with cash. A good start, no? What would you say about a candidate who could not be bought? A candidate who limited his campaign contributions to individuals capped at $100, and just said no thank you to all PAC money and corporate contributions?

Second, I am not affiliated with any party. To run and win as an Independent (which I learned is a political party in itself) is not really feasible, and with no party affiliation a candidate would have about as much chance (think Lyndon LaRouche)as beating Boss Tweed or Mayor Daley in their day, zero to nil.

Realistically, in my job as a U.S. Attorney, I cannot in all good conscience favor or lean to either party at this time. In my experience there are bad apples and crooks on both sides of the aisle, although for the last six years the Grand Old Party has been having one Hell of a non-stop parte' and are only now just getting sloppy enough to be caught.

And now, to answer the question - I won't give you wishy washy answers like Condi Rice does in response to Tim Russert's incessant prodding as to whether or not she is running for POTUS in '08 (FYI, Condi you blew it while shoe shopping in NYC for 3 days during Hurricane Katrina).

Let me just say, yes. Yes!

I have always seen myself as continuing my entire career in public service, possibly culminating in elected or appointed office at the national level. And if any one politician or hard charging U.S. Attorney says to you privately that they don't want to be President, call them a liar to their face.

In '08? Maybe, maybe not, since it depends on so many factors, the first and foremost being that my current commitment and convictions (pun intended) are to bring several people to justice for doing some very bad things. Beyond that I am open to all possibilities.

Let's play a game called short list comprised of who I respect and would be proud to be a running mate with and/or have as a member of the cabinet from both parties:

Jack Murtha, Chuck Hagel, Wes Clark, John McCain, Hillary Clinton, Barack Obama, James Lee Witt, Joe Biden, Mark Warner, Colin Powell, Wyche Fowler, Tom Brokaw, John Edwards, Ted Turner, Arianna Huffington, Bill O'Reilly and Donald Trump. Furthermore, I would announce my cabinet in advance of the general election to include someone like Bill Clinton as my Sec. of State! Face it, the whole world loves Bubba, and it is called pragmatism - we have alot of damage control to do worldwide.

Have a good weekend.

Fitz

PS: I was just kidding about Donald Trump. And food for thought, my spoiler would be Elliot Spitzer so we could tag team corporate evil doers into oblivion.
Labels: Fitz for President, Public Service